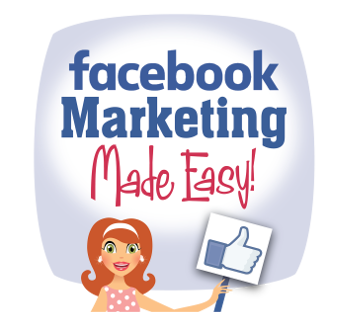 Welcome to Facebook Marketing Made Easy!



I have grown my entire business through Facebook and I want to show you how you can too! I know that Facebook can be extremely confusing and with them changing things all the time it can be hard to keep up – believe me I've been there and know just how frustrating it can be!!
I've spent years working hard to master my Facebook Marketing and have built an amazing business as a result. But I don't want you to waste years trying to figure it out, I want to show you the shortcuts and share with you my tried and tested strategies so you can start seeing results in just 5 weeks!
In this programme I break everything down into simple steps that you can follow and implement straight away. So no more wondering and worrying about what works and what doesn't – I've done all that for you. So, if you're tired of wasting hours on Facebook without seeing results and are ready to turn your fans into paying customers – this programme is definitely for you!

Facebook Marketing Made Easy is broken down into 5 easy to follow online modules that you can work through at your own pace.
Here's what we'll be covering…

Module 1: How To Set Up For Success

How to set up on Facebook for success

How to find and create your unique brand

How to create your own amazing cover photo
 Module 2: How To Quickly Grow Your Page & Attract Your Ideal Customers

How to easily find your ideal customers on Facebook

The exact strategies I used to rapidly grow my page to over 10,000 fans

Step by step guide on how to create your first Likes Ad


DIY design – how to create amazing images that stand out in the newsfeed
Module 3: Easy Content Creation & How To Boost Engagement
What engagement exactly is & why it matters

How to rocket your engagement – exactly what to post to make sure you get lots of likes, clicks, comments and shares

My 4 step plan to easy & consistent content creation – so you'll never be stuck for what to post again

Using the insights tab to boost results on your page

Simple rules to follow to boost engagement
Module 4: Introduction To List Building & How To Create Your Irresistible Freebie
What is a list and why do you need one?


How to create your freebie to attract people who will buy

How to give your freebie the WOW factor

A step by step guide to setting up your freebie
 Module 5: How To Build Your List & Turn Fans Into Paying Customers

The number 1 strategy to turn your fans into paying customers

How to promote your freebie to rapidly build your email list

How to boost your posts and when to get the best results


Setting up your ads accounts and Facebook tracking pixels

A step by step guide to creating your list building Ad (the main  Ad I've used to grow my business!) Exactly how to set it up to make sure you get amazing results!

Key strategies to get sales from Facebook without being too 'salesy'



You get all this (plus much more!) for just 3 installments of £66! This is the cheapest it will ever be, so to sign up now at this price click below:

| | |
| --- | --- |
| Sign up now for just 3 monthly installments of £66 | |
or
| | |
| --- | --- |
| Pay in full at £198.00 | |
Here's What You Get:

Access to over 25 online video tutorials that take you step by step through everything you need to know.

Lifetime access, including access to the latest version of the programme (so when Facebook make any changes I will update the programme and let you know).

Access to my private Facebook group where you can ask any questions and get help as and when needed.


Extra bonuses added along the way to make things even easier for you.
What Others Have To Say:

Nicky's Facebook marketing programme has been the best marketing I have done so far for my business. Her friendly and easy to understand advice and tips have been invaluable. It has given me so much confidence with what I am doing on facebook, especially with my Facebook ads. I can genuinely say that my business has been taken to another level! A truly inspiring course!" Jo Munro, Owner, Astro Facials

I cannot rate this programme highly enough! After just a few weeks I started to make sales from my Facebook page! The modules are exceptionally clear, provide fantastic tips and have helped me to understand just how much Facebook can do for my business. As a result, my page has taken off and has resulted in me reaching customers that were out of my grasp. I would thoroughly recommend this to anyone, whether you have basic Facebook knowledge or more experience. Thank you so much Nicky for helping me get my business started!" Shelley Sandum, Owner, Fancy Frames
Nicky's course was exactly what it says on the tin! It is a course packed full of amazing content – you definitely get your money's worth and so much more value as well. It is all broken down into short videos explaining everything step by step and making it really easy to follow and, most importantly, to take action on as you go. There is so much included, from using Canva to create eye catching templates, to how to link your lead magnet to your newsletter and so much more than 'just' creating the adverts, how to ensure that they grab attention and are compliant, and how to monitor them and get them in front of your ideal customer. I found everything very easy to follow and I was able to take action after each video and module. It is one of the best marketing courses I have done and I would really recommend this to anyone who wants to get going with Facebook marketing." Annabel Roberts, Business Owner.
The course has been so helpful – it's full to bursting with content but is manageable with short videos that you can watch as many times as you need to. I was amazed by what I could do on Facebook – I always thought I was a bit of an expert but I was so wrong! I have one business up and running already on Facebook which has doubled in the amount of likes since taking this course. I have another two ready to go and will be using everything I have learnt from this course moving forward. I even was able to tell my husband who works in IT a few things or two! Nicky has been extremely helpful and friendly throughout and I would highly recommend this course to anyone at whatever stage you are at with your business on Facebook." Emma Bovington, Owner, UnCommon Weddings.
I've been very impressed with the Facebook Marketing Made Easy programme.  I'm not the most technological savvy person in the world but the videos, with very clear and concise instructions – no technical waffle! – make the information easy to implement.  What I've discovered is that there's so much more to a Business Page than you'd ever imagine!  Something else that is really great about Nicky is that she helps you keep pace with any Facebooks changes by releasing additional videos to point out the changes and improvements. It's been brilliant so far and I haven't even finished it all yet!  Thanks Nicky!" Gail Laidlow, Owner, Dynamic Life International.
So, what are you waiting for?! It's time to start seeing real results from Facebook – just follow my programme and I'll take you step by step through everything you need to know!

| | |
| --- | --- |
| Sign up now for just 3 monthly installments of £66 | |
or
| | |
| --- | --- |
| Pay in full at £198.00 | |
I've worked so hard on this programme and I'm sharing A LOT of amazing content that I know will make a massive difference to your business!
See you on the other side!